The
M87 black hole
: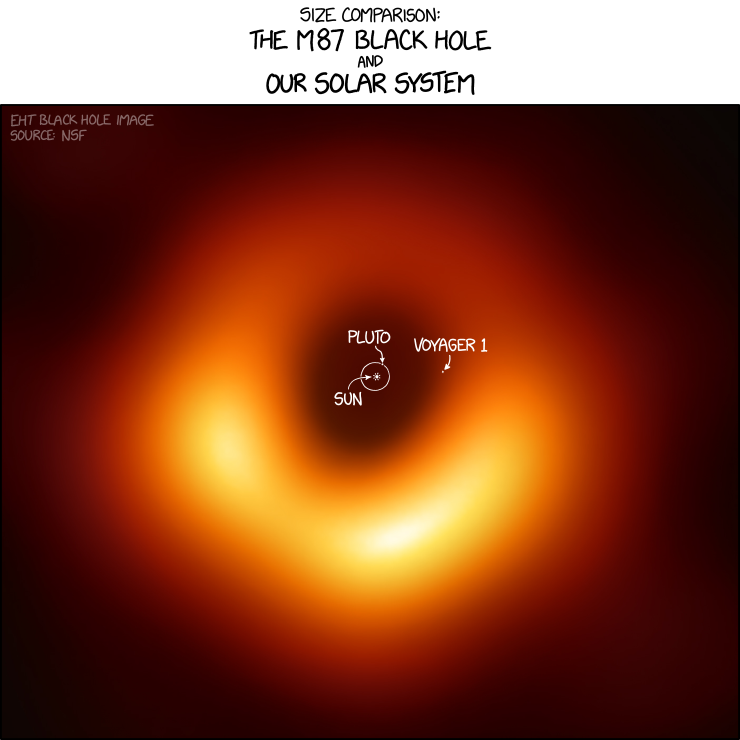 Via
Tam
, a
fascinating article about the KT meteorite and the day the dinosaurs died
. Not just the dinosaurs, almost everything else died, too.
Scientists still debate many of the details, which are derived from the computer models, and from field studies of the debris layer, knowledge of extinction rates, fossils and microfossils, and many other clues. But the over-all view is consistently grim. The dust and soot from the impact and the conflagrations prevented all sunlight from reaching the planet's surface for months. Photosynthesis all but stopped, killing most of the plant life, extinguishing the phytoplankton in the oceans, and causing the amount of oxygen in the atmosphere to plummet. After the fires died down, Earth plunged into a period of cold, perhaps even a deep freeze. Earth's two essential food chains, in the sea and on land, collapsed. About seventy-five per cent of all species went extinct. More than 99.9999 per cent of all living organisms on Earth died, and the carbon cycle came to a halt.

Earth itself became toxic. When the asteroid struck, it vaporized layers of limestone, releasing into the atmosphere a trillion tons of carbon dioxide, ten billion tons of methane, and a billion tons of carbon monoxide; all three are powerful greenhouse gases. The impact also vaporized anhydrite rock, which blasted ten trillion tons of sulfur compounds aloft. The sulfur combined with water to form sulfuric acid, which then fell as an acid rain that may have been potent enough to strip the leaves from any surviving plants and to leach the nutrients from the soil. ...The world that emerged after the impact was a much simpler place. When sunlight finally broke through the haze, it illuminated a hellish landscape. The oceans were empty. The land was covered with drifting ash. The forests were charred stumps. The cold gave way to extreme heat as a greenhouse effect kicked in. Life mostly consisted of mats of algae and growths of fungus: for years after the impact, the Earth was covered with little other than ferns. Furtive, ratlike mammals lived in the gloomy understory.
What has been found in North Dakota is an extremely detailed fossil deposit that preserves the first hour(s) after the Chicxulub meteorite slammed into the sea off the Yucatan Peninsula.
If you're at all interested in the extinction of the dinosaurs, the KT impact or paleontology in general, you should read the article.